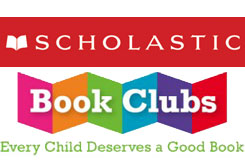 4L's Book Club!
Class Code: Q9FFD
Scholastic book club orders due: Friday, September 25th
Shop the flyers with your child: https://editions.mydigitalpublication.com/publication/?i=667417
Connect to Our Class Page: https://orders.scholastic.com/Q9FFD
Dear Parents,

Now it's easier than ever to find the perfect books for your child -- shop our NEW online Book Clubs Web site. Choose from a much wider selection of books than in the printed flyer. Plus, you can send your orders directly to me online and use your credit card to pay.

Ordering online is fast and easy:
REGISTER at www.scholastic.com/bookclubs
ENTER the Class Code at the top of this letter
CHOOSE from thousands of print titles, value packs, and Storia eBooks
SUBMIT the order to your child's teacher
EARN FREE Books for you and the classroom too!
Thank you for helping to build your child's love for reading!
PS: Feel free to forward the class page link to extended family who may want to support your child's reading.